Hypercholesterolemia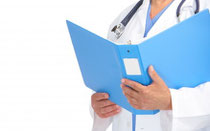 Causes of Hypercholesterolemia:
e.g. genetics, diabetes, hypothyreoidism, obesity, medications...
Complications:
Elevated cholesterol levels (especially LDL-Cholesterol) may lead to the development of atherosclerosis and increase the risk for cardiovascular diseases (coronary heart disease, myocardial infarction, stroke)
How low should my cholesterol be?
The LDL-Cholesterol level is most important. The LDL-cholesterol target level has to be individually determined for each person depending on concurrent illnesses, age, hereditary burden and other factors. The target levels lie between 70 and 160 mg/dl.
How can cholesterol be lowered?
Cholesterol can be lowered to small amount by lifestyle modification (diet, exercise). If further LDL-cholesterol reductions are required, cholesterol lowering drugs (e.g. statins) can be used.